Astropixels Publishing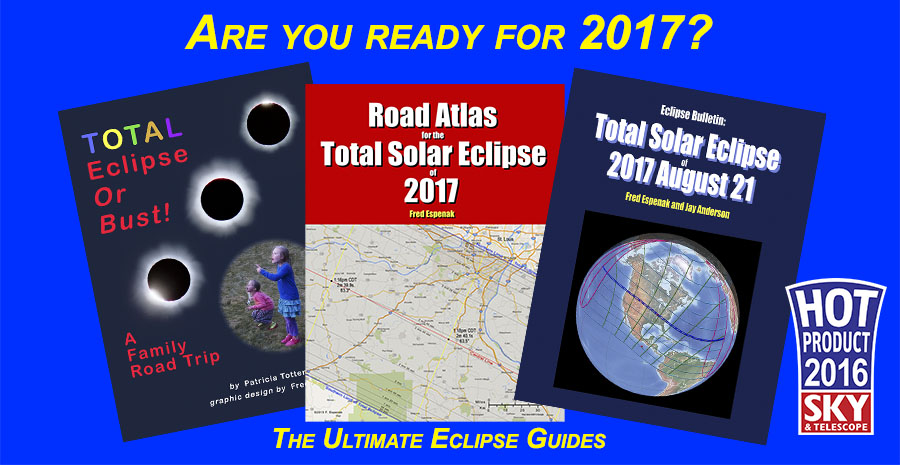 On August 21, 2017, a total eclipse of the Sun will be visible from the contiguous United States for the first time in 38 years. Get ready for this must-see event with our award-winning eclipse guides.
Eclipse Bulletin: Total Solar Eclipse of 2017 August 21 by Fred Espenak & Jay Anderson
This complete guide to the eclipse is filled with tables, charts, maps, weather data and eclipse times for more that a thousand cities in the USA. Click Here For More Information


Road Atlas for the Total Solar Eclipse of 2017 by Fred Espenak
This book contains detailed road maps of the entire eclipse path from Oregon to South Carolina. Information printed on the maps makes it easy to estimate the duration of totality from any location in the eclipse path. Click Here For More Information


Total Eclipse or Bust! A Family Road Trip by Patricia Espenak
The story follows a typical family on a road trip to see the 2017 eclipse. Along the way the children learn all about the how and why of eclipses in a friendly and an uncomplicated way. The book also explains how to safely view the eclipse and where to go to see it. Click Here For More Information
These Astropixels Eclipse Guides have been recognized by Sky and Telescope magazine as three of their Hot Products for 2016.

Publications

List of Publications

Astropixels Publishing
P.O. Box 16197
Portal, AZ 85632

For permissions requests, questions or more information about publications, please contact Fred Espenak at the address above, or though email via Contact.