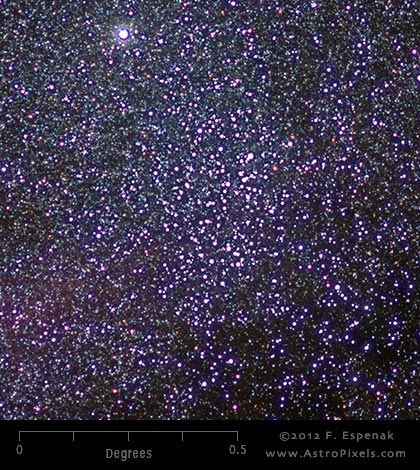 NGC 3532 (Caldwell 91)
NGC 3532 or Caldwell 91 is an open cluster in the constellation Carina. It has an apparent visual magnitude of 3.0 and its angular diameter is 55 arc-minutes. NGC 3532 lies at an estimated distance of 1600 light years. The Equinox 2000 coordinates are 11h 06.4m, -58° 40´ which makes NGC 3532 a Southern Hemisphere object that is best seen during the spring. The Caldwell Spring Star Chart shows the position of all Caldwell objects visible during that season. Visit the Caldwell Catalog Photo Gallery to see more objects from this catalog.
Technical Details
Object: NGC 3532
Other Names: Caldwell 91
Object Type: open cluster
Object Data: Apparent Magnitude = 3.0, Angular Size = 55 arc-minutes
Object Position (Equinox 2000): 11h 06.4m, -58° 40´, Constellation = Carina
Date/Time: 2011 Jun 03 at 02:23 UTC
Mount: Celestron CG-5 GT
Lens: Nikkor AF 300 f/2.8
Camera: Canon EOS 550D (Rebel T2i)
Field of View: 4.3° x 2.8° at 3.0 arc-sec/pixel (web version: 16.6 arc-sec/pixel)
Exposure: 2 x 240s, f/2.8, IE800
File Name: NGC3532-01w.jpg
Processing (Adobe Camera Raw): Vignetting Correction, Noise Reduction, White Balance, Curves
Processing (Photoshop CS5): Average Images, Curves
Original Image Size: 3454 × 5179 pixels (17.9 MP); 11.5" x 17.3" @ 300 dpi
Rights: Copyright 2012 by Fred Espenak. All Rights Reserved. See: Image Licensing.
---
AstroPixels Links