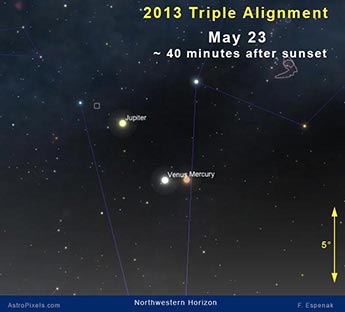 Triple Planetary Alignment - 2013 May 23
The planets Jupiter, Venus and Mercury were all visible during evening twilight on May 23. Mercury has caught up to Venus and will now climb higher each night. This is part of a several-week-long triple planetary alignment as all three bright planets appear together in the evening sky. The planets will move closer together each night culminating in a conspicuous triangle on the evening of May 26.
In the image above, Jupiter, Venus and Mercury appear from left to right. The figure to the right can also be used to identify the planets on May 23. The Chirichaua Mountains form the horizon.
Complete details on this celestial event can be found on the Portal to the Universe blog post Triple Planetary Alignment. To preview how the event will change from night-to-night, see the Triple Planetary Alignment Viewing Charts.
For photos of this event, see Triple Planetary Alignment Gallery.
Technical Details
Object: Triple Planetary Alignment - 2013 May 23
Date/Time: 2013 May 24 at 03:02 UTC
Tripod: Bogen 3001
Lens: Canon EF-S18-135mm IS lens at 85 mm
Camera: Canon EOS Rebel T3i (600D)
Exposure: 2s, f/8, ISO 800
File Name: Triple13-0058w.jpg
Processing (Adobe Camera Raw): Noise Reduction, Lens Correction
Processing (Photoshop CS6): Curves
Original Image Size: 3454 × 5179 pixels (17.9 MP); 11.5" x 17.3" @ 300 dpi
Rights: Copyright 2013 by Fred Espenak. All Rights Reserved. See: Image Licensing.
---
AstroPixels Links