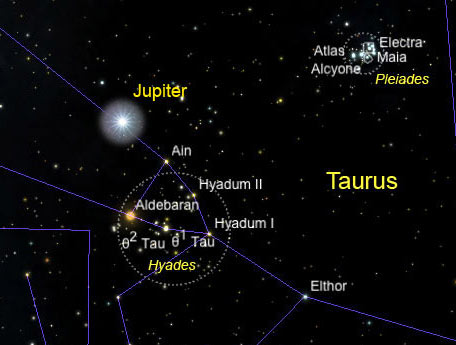 Taurus and Jupiter - 1
During the winter of 2012/13, the planet Jupiter is visible as a brilliant white star in the constellation Taurus. Over the course of several months, Jupiter' position slowly changes against the background stars of Taurus.
The image above shows Jupiter in Taurus a couple of hours after the giant postion reached opposition on December 3. Below Jupiter is the the v-shaped group of stars called the Hyades. The bright orange star in the Hyades is Aldebaran. To the upper right in the image is a tiny dipper-shaped star cluster known as the Pleiades.
Jupiter's distance is currently 4.06884 AU from Earth and 5.05448 AU from the Sun. Since Jupiter is at opposition, it appears opposite from the Sun in the sky and it rises at sunset. Jupiter is visible all night long but it is highest in the sky at midnight.
The chart to the right can be used to identify the brighter stars of Taurus in the image above.
For more images of Taurus and Jupiter, see image 1, image 2, and image 3.
Taurus is a Zodiacal constellation otherwise known as the Bull. It is one of the 48 Greek constellations originally described by the 2nd century astronomer Claudius Ptolemy (Wikipedia). Taurus remains one of the 88 modern constellations defined by the International Astronomical Union (Wikipedia).
For an almanac of other interesting sky happenings for each year, see Calendar of Astronomical Events.
Technical Details
Object: Taurus and Jupiter - 1
Date/Time: 2012 Dec 03 at 03:26 UTC
Lens: Nikkor AI 50mm f/1.8
Camera: Canon EOS 550D (Rebel T2i)
Field of View: 25.1° x 16.9° at 17.4 arc-sec/pixel (web version: 98 arc-sec/pixel)
Exposure: 2 x 360s, f/4, ISO 800 and 120s, f/2.8, ISO 800 with Cokin A840 Diffusion Filter
File Name: TaurusJup-01w.jpg
Processing (Adobe Camera Raw): Vignetting & Distortion Correction, Noise Reduction, White Balance, Curves
Processing (Photoshop CS5): Average Images, Curves, Opacity (with diffusion image)
Original Image Size: 3454 × 5179 pixels (17.9 MP); 11.5" x 17.3" @ 300 dpi
Rights: Copyright 2012 by Fred Espenak. All Rights Reserved. See: Image Licensing.
---
AstroPixels Links